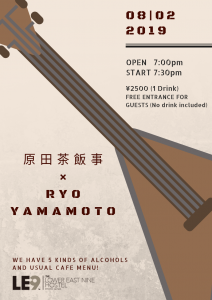 Hello!
This is the announcement of our live event in this summer.
We will have a live event by Haradasahanji( @haradasahanji ) and Ryo Yamamoto ( @yamaryo666 ) on August 2!
Please check followings:
 
Date : August 2, 19:30~ (19:00 open)
Ticket : 2,500 JPY (1 drink included) ※Hostel guest can join for free!
Maximum number of participants : 25
 
*In addition to the cafe menu, beer, shundigafu, wine, gin tonic, gin buck are provided on the day.
*The cafe closes at 18 o'clock as usual. After 18:00, only live participants and guests can order drinks.
 
Their music invites you to otherworldly journey.
If you would like to join us, please feel free to contact us!